Harleigh Cemetery
The Harleigh Cemetery (on Haddon Avenue in Camden), is a well-landscaped park. There are small ponds located below shady trees and low-grade hills slope toward the Cooper River.
The park is so nice that locals actually picnic or come during their lunchbreak for a walk. However, there are people from all over the world that come visit to see the cemetery's most famous person…none other than Walt Whitman (a poet)!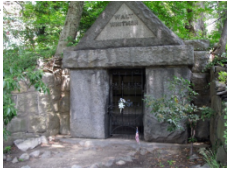 He designed his own tomb built on land given to him by the Harleigh Cemetery Foundation. The stone temple has an iron gate with a bronze lock. He stated to his friends that the tomb was to celebrate his life and personality. He was laid to rest in 1892.
Walt Whitman had a famous poet visit him in the 1960s. Believe it or not, it was Jim Morrison of The Doors. Jim left his mark by signing his name on a tree near the tomb.
There are other well-known people interred in this cemetery. Nick Virgilio (a haiku poet), four senators and over 300 Civil War soldiers were laid to rest.
Westfield Friends Cemetery
This cemetery is located in Cinnaminson is the final resting place for a women's rights activist and led in the women's suffrage movement. Alice Paul fought in the campaign for the 19th Amendment to our Constitution. She was interred here in 1977.
Sunset Memorial Park
Located in Pennsauken, a famous "slugger" whose real name is Arnold Cream, was boxing's heavyweight champion and was Camden County's first African-American sheriff. He is none other than Jersey Joe Walcott. He was interred here in 1994.